Well, Peter and I are a month out from our Las Vegas nuptials and the VLV Rockabilly weekender. I am finally ready and quite excited to be Mrs. Von Schmid. I honestly thought a Las Vegas Wedding was going to be a little easier than a wedding at home. But a destination that you have not frequented can pose many problems. We started off with a wedding in the The Orleans, Stardust Suite. We were excited for the super swank stylized room and being in the same hotel ans the show was beyond perfect in our minds.
But once we realized they were not really equipped to have a wedding in their hotel, we had to switch gears fast. Also I could not find a minister that I liked after a search of over 6 months. Really?, the capital of love, Las Vegas, know for their weddings, and I could not find an unusual minister to perform the ceremony...Back to the Orleans...After they got out initial credit card payment to reserve the room, they were difficult to get a hold of and not that friendly, and that soured us right away. I am not a diva bride by any means, but I had questions only they could answer.
They had no menu selections for us to choose from and when I gave them ideas from another hotel, they basically stole that menu and said they would "recreate it". I was worried considering the menu they had was assorted packaged foods to be fried up and served. I wanted fresh savory natural food.
They also charge 3k for the suite rental which did not include the entire suite for the night. The suite had a separate bedroom in bath, so at the end of the soire, they closed off the main suite and you had the bedroom and bath, you did not have the entire suite! After much deliberation, we asked for refund and which they gave us.
So moving on, it was time to start looking at Chapels and we settled on Little Chapel of the Flowers
http://www.littlechapel.com/
They were professional and very helpful. We choose an outdoor chapel setting
(photo by jen.plinio.flkr)
There are not any pictures of it but this one so you get the idea...Everything else has fallen into place for the most part. The Chapel does provide a photographer, but we were a little skeptical and still are. There is not a real portfolio for photogs they have and I had my heart set on a shoot at the Neon Graveyard/Boneyard
http://www.neonmuseum.org/
(photo by
http://www.intimateweddings.com/
)
So, last year I found the most amazing local photographer in Las Vegas, but I already had a photog so when my original photog bowed out, I called
http://www.altf.com/
in hopes they could squeeze us in last minute for a session, and low and behold i was thrilled with Dalisa's sweet nature and ease of it all.
We will meet her and her hubby photog John Micheal for a set in the graveyard...Everyone who I sent a link to off this photog went apeshit, well there is no other words to decribe their enthusiasm! The emotion of his work, leaps from the picture....I would post 20 of his pictures, I have so many favorites so go to his site or blog and see it all for yourself, i feel really lucky to be working with him!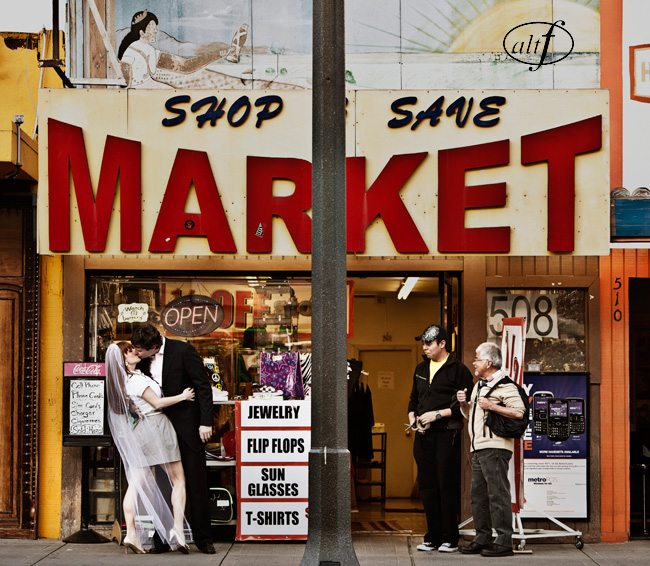 (Photo John Micheal Cooper
http://www.earth13.com/
)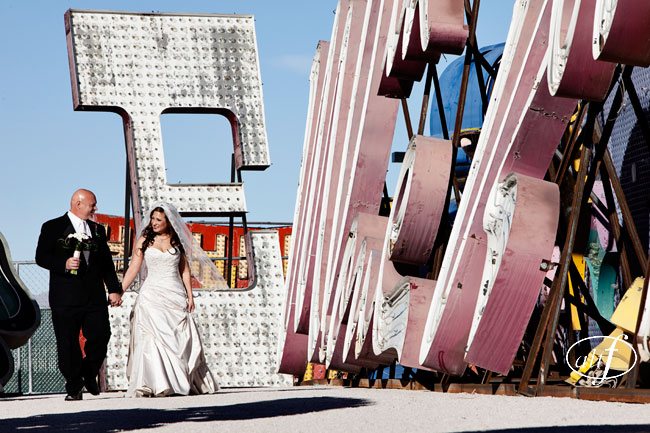 (Photo John Micheal Cooper http://www.earth13.com/ )
We are having our reception at the Stratosphere Top of The World Resturant
http://www.topoftheworldlv.com/
The meal will consist of a decant 5 course dinner with wine pairings...hey we like to eat! We will have a private dining room with an amazing view of the strip. We also have the opportunity for all of us to go to the tower after dinner to see the strip 360 views!
We will also have a little entertainment. I searched long and hard to find a local ukulele player to play for the ceremony and maybe for the dinner. I was in luck to find Vincent Cortese, a virtuoso on all things strings, who studied under the famous Roy Smeck.
http://www.facebook.com/login/setashome.php?ref=home#!/profile.php?id=100002261791203
You can find him on facebook, get some lessons if you live locally. I hope to have Skype lessons in the near to distant future... here is a taste of what he can do...
http://www.youtube.com/watch?v=T32_HIVi8p4
, simply Amazing! We have become fast email and phone friends and I cannot wait to meet him and his lovely wife Pat.
Well, we are about 22 days and counting so I will post when we get back...
xxoo
The soon to be Mrs Von Schmid