I feel just awful not getting this up much sooner. With the excitement of being a new wife, getting back to the groove of things has not been so easy. Back from vacation/wedding/viva las vegas weekend, there is only one word....EXHAUSTION...It must be true that they pump the casinos full of rich oxygen, I slept only 4 hours each night. I felt refreshed and revived by the warm desert sun and the excitement of a new day with a town full of possibilities! When we got home, we crashed.
The flight itself was uneventful except for the extreme vertigo I felt for four days after landing. it has bnever happened to me before in all my flying. Peter felt it too. We would stand and immediatly feel like the ground under our feet was moving. I really think they may have messed up the oxygen in our plane (too little) i thought it was the rapture of a new place, getting married and the show....We braved it out and eventually it did go away. The winds here upon landing were gusting up and just as we were to touch on the tarmack the plane veered and teetered hard to the right. I was white knuckling it. I thought we were going into a deathroll. I never had that happen before. you could feel the plane pulling so hard but whatever the pilot did we were just fine. They don't pay those pilots enough in my book. The flight attendants, sorry, thats another story. I only met 2 in all my flying (trip to Barcelona) that were kind, sweet, and helpful. That may be because of what they encounter on flights on a regular basis, but we are so easy...
When we were ready to take off I took Petes jacket and put it behind me and closed my eyes, ready to get a catnap, The attendant comes over and RIPS the jacket from under my head and screams, " There should be nothing over these seats!" It was not over the seat it was behind my head. We both looked at her like she was a crazy person ie: POWER TRIP. She ran away so quickly as soon as she realized she was wrong, we did not have time to react...the 2 of us are just looking at each other wondering what the fuck just happened.
Prior to this, I suggested we wear masks on the flight in order not to get the slightest of a cold/germs from other passengers. We sat at the boarding gate masks on , ready to go. An attendant approached us and in a loud voice proceeded to start a quibble with us over the masks. "What are you wearing that for ?" before we had a chance to reply, "When you board, they are gonna ask you, why you are wearing THOSE THINGS". Now, if we were of the asian persuasion, no one would have EVER asked us this. They are the smart ones and we were trying to follow suit. we looked at each other again and we responded that we were trying to prevent our holiday from disaster. She looked at us like we had to heads. When she walked away pete said we should have told her we had TB! (when we boarded NO ONE asked us about the masks) Oh, this is US Airways we are talking about, BTW...
We stayed at the Stratosphere,
http://www.stratospherehotel.com/
close to the Little Chapel of the Flowers so we could be close to the wedding. Our reception was in a private dining room in the clouds at TOP OF THE WORLD RESTURANT
http://www.stratospherehotel.com/Tower/Dining/Top-of-the-world
in the Strat. The Strat is also closest to the Clark County Marriage License Center, Fremont Street
http://www.vegasexperience.com/
, and the World Famous as seen on TV Gold and Silver (Pawn Stars)
http://www.history.com/shows/pawn-stars
The bus system there is very easy to master and we used it frequently to get around.
http://www.rtcsouthernnevada.com/
This was after one day, our first, spending 160.00 on cab fare to get to the chapel, licence center, Fat Burger (which was our first official stop after we checked in) and the Orleans for the show. Can prices here are above ridiculous in my book. We frequent NYC often and comparably, NYC is about 1/3 of the price to get a cab. Cabbies in Vegas are nice, helpful, and interesting, so it was not bad company on our pricy rides about town. (they also suggest a 15% tip on top of the cab fare, which we DID NOT do)
Our First order of business upon landing was FAT BURGER
http://www.fatburger.com/home/
We met our friends Erin and Rosie who flew in the day before. I ordered an animal style burger (onions special sauce cheese ketchup mustard) By the second bite i was hooked. Coming from the east coast where we do not have the franchise, it was a good experience. Who can say no to fresh cut fries?
From there we hopped a cab to the Clark County municipal for our marriage license, easy and simple. The fast food of licences. They have a long counter with a 10 inch stack of forms and a boxful of pencils. It was funny, I was thinking that Britney Spears was at this same counter filling this out, why I was thinking about her is beyound me but she sprung to mind...kinda neat...The line moved quick and they did not even ask us for our decrees, just drivers license, forms, and cash. It took from start to finish , less than 15 minutes! On the way up we passed Gold and Silver and thought we would walk back from the licence center to take a peek. Nothing much to see on the way back. Your in downtown and some residential as you walk, a few no descript hotels, lots of for sale, for rent.
We walked the few blocks and there was no line but many people milling about the shop in and out. As you walk in you see its a bit bigger than on TV and I have never seen their merch (t-shirts, hats, mugs, you name it) featured on TV. Some of the items were fun and unusual, prices very high...Lots of lookers, some of the jewelry was insanely unique. None of the guys were there at the time but they were filming some "filler". I had a white hat on with a black ribbon, so maybe you'll see me? We did not take photos of the inside but snapped some of Pedro standing outside...
We went back uptown to meet with Erin and Rosie and take in some of the sites. We visited many hotels that had decorated for the easter weekend. Tulips for miles, indoor greenhouses replete with monarch butterflies. Our Favorite was the Cosmopolitian. It was upbeat, urban, chic, modern.
Got a frantic call the day before the wedding from the chapel florist...I wanted a succulent bouquet and the chapel florist called and we went to have a look. The succulents were not petite and the monster bouquet weighed about 10 pounds! We scaled it back (a ton) and added some roses, not what I wanted, but lovely all the same! In the morning we got up and wait straight to the pool at the Strat 8 floors up it has a lovely view of th mountains, mw in my curlers, had a light lunch and took in the sunshine! Billy Idols, WHITE WEDDING played on the pools intercom, It was gonna be a very good day.
Later on, before we were to be picked up at the hotel by the chapels limo service, we ordered in Champagne tuxedo strawberries fruit and cheese. Erin stopped by to make sure we had everything under control. We were more than ready and enjoying our little celebration.The rest of our friends met us at the chapel...
The minister who married us was so jolly and fun, he made it such a joyous event.We met with him briefly and talked a little bit, he put as so at ease, no nerves for either one of us, just a buzzing excitement.
The Wedding at Chapel of the Flowers was fantastic.
http://www.littlechapel.com/
Their staff, location, and treatment were top notch. They changed their site recently and it really looks great. Before in our planning stages, we were really going on site unseen, as they did not have good photos of the chapel we wanted to be married in, and the photography shown was really not all that great. Being the #1 place to get married in Vegas, I am so glad they tweeked their site, it shows their quality now. I was really concerned about the photographer, since the pics on the site were not all that great, we just crossed our fingers and hoped for the best. From what we experienced, our Photog Joe was fun, cool, and had a great eye for capturing our personalities. We were extremely pleased. Here are some photos of us taken at the chapel, pretty good, huh? Candid and posed....
We had a very small group at our wedding...My dear friend Erin which I have known for a lifetime was our witness, Jaime Constantine a super Jessica Rabbit 'billy gal pal of mine and her sweet man Shawn and Petes funloving boss Stewart and his lovely wife Dearest (yes she has the coolest name) This was all we needed to make a party!
We had the great pleasure of a fun musician ukulele extrodinaire Vincent Cortese and his devoted wife Pat attend and play for the ceremony (no canned music for us) He was so good and fun, he played the tiniest soprano uke (a Martin) and he was just brilliant, it made for a perfect mood, a happy one!
No one thought to record him at dinner when he played we are all too busy sipping Cosmos (ladies) and who knows what the men were drinking. We do have our wedding video, which was included in the wedding package. We refuse to watch it. In one year we will...
So after the ceremony and some pics, we hoped in a limo and went right to dinner in the Renasaince room a private dining room in the Strat. We had a small security screening before going up, no biggie...The elevator was a trip so smooth! The operator was a scream, he joked and laughed with all of us. Upon arriving at our floor, it was so peculiar. We were in a round room with five doors surrounding us. It was like Alice In Wonderland! Someone called to us in part of it and we saw a hand flash to us that led the way to our suite dining.
It was beyond perfect with subdued lighting and high end decor. The food and presentation was one of the best I ever had. Five courses all paired with complimentary wines. Our host, Herman was so attentive and charming. he was originally from Alaska, but did not ask how he ended up here in the middle of the desert. We laughed and spoke of Vegas the sights the sounds, the guests who did not know each other before coming here, made very fast friends, it was a wonderful intimate setting and I would not have changed for the world. We were able to be present for everyone. (try to do that with even 50 people)
The funny thing about our room Herman told us right away that we should not be alarmed when we see people falling outside the window, (it was the sky jump above us) We noticed it right away at cocktail hour and amazing to sit in the middle of dinner and see this, with the strip beyond...
After dinner we proceeded to go to the very top to the scenic outlook at the very top of the building. (this is where the 3 rides are) There is a club on top too and is round so we ambled around and to the outside, VERY WINDY! We did not last long, but it was a neat thing to do. They had a picture booth that pete and I hopped in and Dearest bought our quick session of candids, she snuck in to one of the shops and got us a licence plate JUST WED, that gal is so thoughtful and fun. We went downstairs and parted ways bidding everyone a happy time in Vegas. more adventures for us and we were now headed to the VLV Rockabilly Weekender at the Orleans with Jamie and Shawn...
AltF Photography.....
http://www.altf.com/
We were really not sure how the wedding photography was going to be and I wanted, needed, to do something special to mark our time in Vegas. I had found this talented duo of John Micheal and Dalisa Cooper a year ago, had them bookedmarked as an "wish" to work with them. I already had a photographer in mind that would be in Vegas.
To make a long story short, my photog bowed out and 2 months before the wedding I make a frantic call to ALTF. Things happen for a reason, no doubt and I have no regrets. The work is simply amazing. I learned he was the originator of the whole "Trash that Dress" He has an amazing blog as well and the pics are the best I have seen in the wedding genre...
http://www.earth13.com/
This photog is a MUST HAVE for any special occassion. Right now he is doing anti portraits and I cannot wait to see... I wanted to do something a little out of the ordinary and they were so happy to play along, just take a look, he captured my strip poker idea beautifully! The one regret is that we do not live in and around the Vegas area, I think we would be fast friends!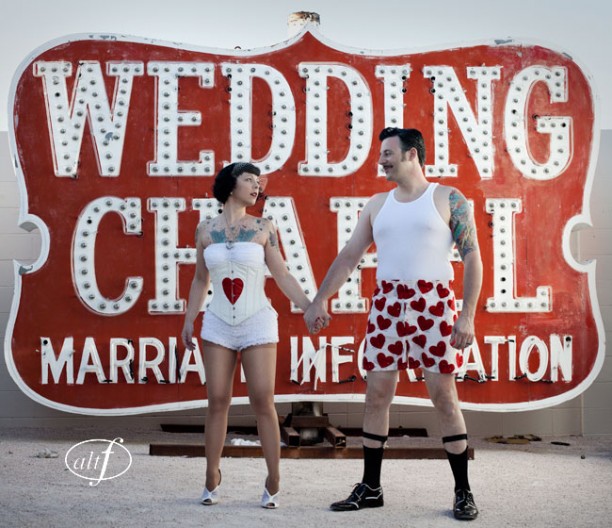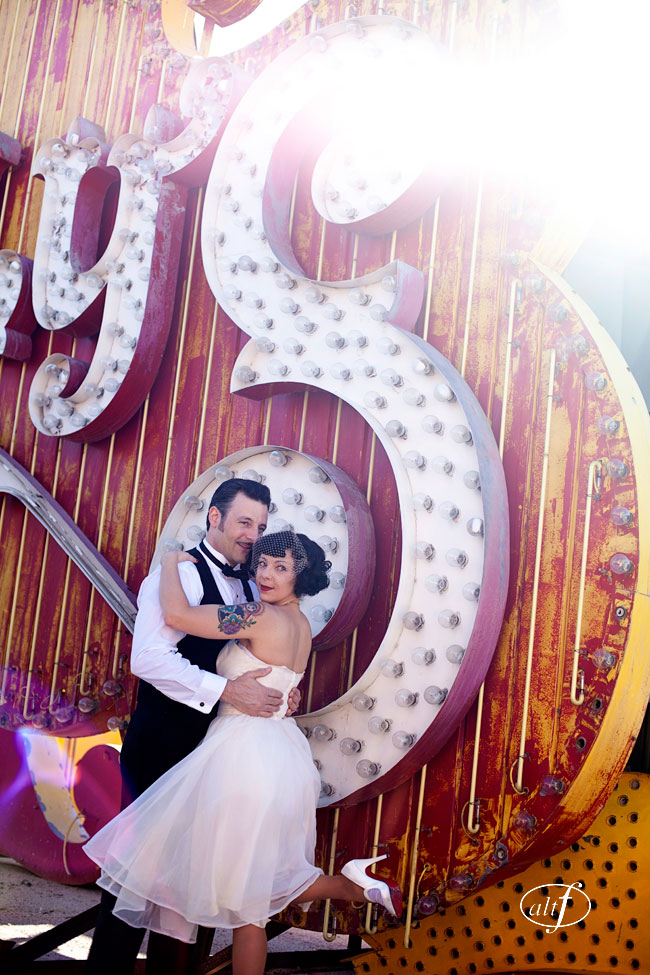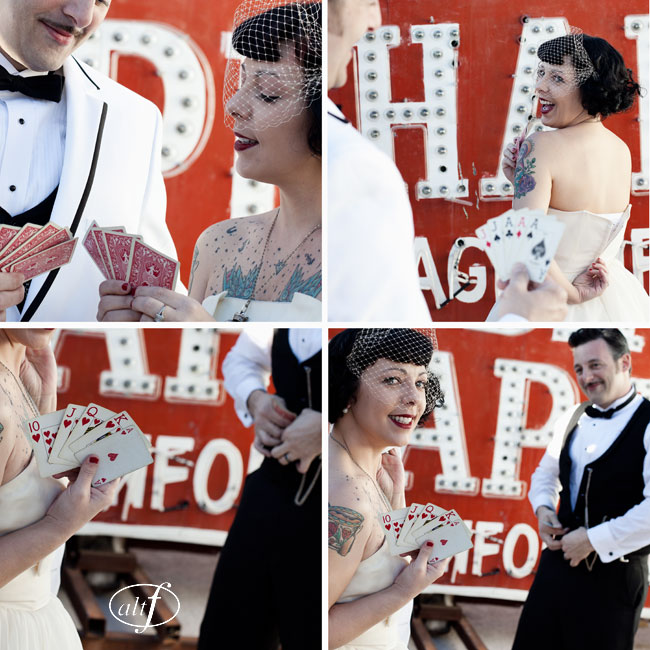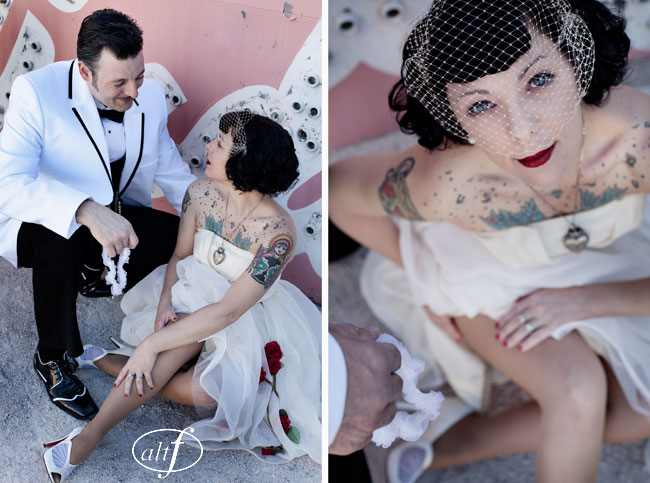 Well I am suppossed to report on the VLV show as well and have tons of pics and stories but it will have to wait till next blog. I am in the process of raising little Barred Rock Chicks, gardening, doing the vintage thing, going to shows and pouring wine, there is not enough time in the day so look for part 2 very soon!
xxoo
Stella Ranae